Decorative steel bollards protect pedestrians and buildings from traffic as well as being aesthetically pleasing. Bollards are fabricated differently from on-site furniture, which is typically made from metal casting. Knowing where the objects around us come from enhances our experience of walking down city streets and observing the built environment.
1. Metal Bollard Fabrication and Machining
Manufacturing metals involves precision shaping by grinding, cutting, or drilling. This process is called machining. Typically, the process is performed on a lathe, which will turn the metal to trim corners and edges with tools to cut the workpiece into the desired shape or size. A hole or set of holes will be formed directly through the metal surface in other machining applications. Therefore, metal drills can be classified as processing tools.
Machining can be roughly defined as the process of removing material from a workpiece using an electric machine tool to shape it into the intended design. Most metal components and products require some form of machining during the manufacturing process. Other materials, such as plastics, rubber, and paper products, are also commonly manufactured through machining processes. The different types of machining tools include grinding machines, cutting machines, boring machines, drilling machines, milling machines, and lathes.
The art of processing has changed dramatically over time. Dating back decades, it started with hand-bow lathes in the 1770s and ended with the much-improved boring machines in the 1800s. Fast forward to now, we are now able to achieve high-quality surface finish and extreme cutting accuracy through laser cutting. Laser cutting involves a laser machine, such as a CNC machine, that emits a narrow, high-energy beam that effectively melts, vaporizes, or burns material.
The process is great for shaping steel or etching patterns into a piece of material. Advanced CNC machines control operations in all 3 axes (x, y, and z) and can automatically flip parts and switch machining tools to achieve high-quality finishes and levels of precision.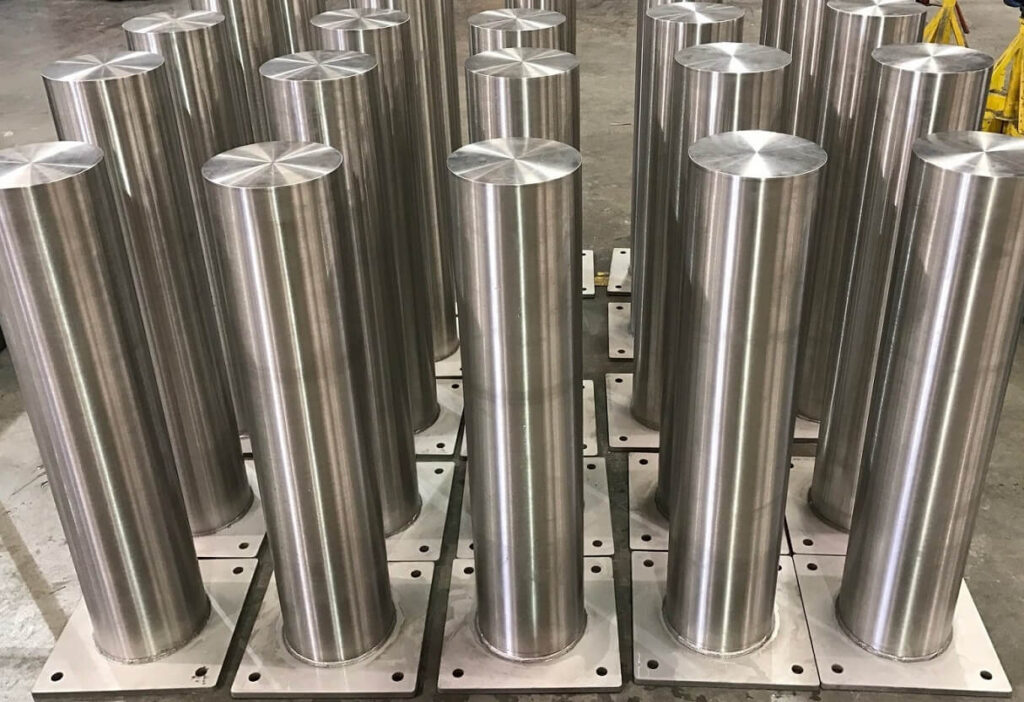 2. What is Bollard Processing?
Manufacturing is turning a piece of raw material into something functional. It's building some kind of structure out of metal (usually steel) to make something that lasts a long time. Steel bollards are manufactured in three stages: cutting the material, welding the parts together, and grinding or polishing the finished product. The precision of each step ensures that the finished product is of the highest quality.
The manufacturing process of bollards depends on the material required. Iron and aluminum bollards, for example, are often manufactured using sand casting. However, fabricated bollards require a high finish and therefore require machining during manufacture. The stainless steel bollards are then polished to achieve their sleek and modern design. Whereas stainless steel grade 304 is the most widely used steel in the world, grade 316 has very good corrosion resistance to chlorides and acids.
To maintain their austenitic composition at low temperatures, both 304 and 316 stainless steels use nickel. Stainless steel holds a very long life and can be recycled indefinitely. Stainless steel bollards are commonly used as architectural and decorative items, and they serve more of a decorative purpose than cast iron bollards, which usually have a higher industrial-grade finish.
3. Prefabricated Finishes
Did you know that stainless steel comes in 13 different finishes? Let's dive into the characteristics of these finishes and why you might end up with a particular finish over another. There are five rolling processes to produce the steel; these finishes can be used as is or further altered depending on the desired finish result.
These finishes include: hot rolled and annealed; hot rolled, annealed, and passivated; cold rolled, annealed, pickled, and passivated with additional passes over highly polished rolls; annealed in an oxygen-free vacuum; cold rolled, annealed, acid Wash and passivate.
You then have a choice of six different finishes, which apply increasingly smooth layers to the surface of the steel. These finishes include rough, brushed, satin, matte, reflective, and mirror. In addition to providing a tactile and visible texture, matte finishes are often used in restorations or small projects that require a unique look. Steel grades used in each finish differ in corrosion resistance and hygiene.
Rough finishes are not suitable for surgical instruments or food preparation surfaces that require surgical sterilization. However, they offer a unique corrosion-resistant material for decorative objects. Conversely, smoother steels are easier to clean and have an excellent ability to withstand exposure to corrosion sources.
4. Bollards Made of Steel and Stainless Steel
Prefabricated bollards can be chosen as venue furniture as they bring a contemporary look to the perimeter. As decorative covers or freestanding bollards, they offer a stylishly geometric shape with attractive additions such as cuffs or rings. Sturdy and modern, both steel or stainless steel can be optionally finished with a powder coat or IronArmor in six different colors, to match the site aesthetic.
It is also manufactured rather than cast bollards that are used to protect against impact. Crash bollards are designed and tested for stopping power and are made of concrete, rebar, and structural steel. These high-impact bollards are intended to deter vehicles and protect the perimeter from targeted vehicle attacks.
You may also see faux bollards indoors. These smaller bollards are often used for asset protection, inventory, or around equipment to keep the wheels of a cleaning machine or scooter from hitting and causing wear or damage. They are also often used to protect escalators, preventing wheelchairs and strollers from rolling into hazards. Bollards serve a guiding, warning, or aesthetic function to the designer. They are easy to install and reposition and have wide face flanges for effective stability.
Both steel and stainless steel offer unprecedented value at various price points. Steel is magnetic and has high thermal conductivity. Its practicality and affordability make it ideal for a variety of projects. Both crash bollards and impact bollards consist of steel pipes filled with concrete. Crash bollards are even more robust due to the use of steel on the roadbed foundation.
Stainless steel is generally non-magnetic and has stronger hardening properties than steel, so it is less ductile and has lower thermal conductivity and heat distribution. Stainless steel is known for its extra protection against corrosion and ease of maintenance. It is also famous for its aesthetic elements and ability to add sophisticated design value to any infrastructure.
Bollards are a powerful and effective part of your security plan. They are useful in many places, both commercial and residential. They are the first line of defense against wheeled vehicles and protect those passing or around them, as well as the buildings in front of them.