In this guide, we will cover the many questions and issues you may have about finding, purchasing, and installing the most effective security barriers and barriers for your facility.
1. What do I need to know about Safety Barriers?
If you are new to the world of security barriers and industrial protection, here are some frequently asked questions.
1) What is a security barrier?
A security barrier is a reinforced fencing structure used to protect valuables such as people, buildings,  machinery, and inventory from unnecessary damage caused by vehicles and other moving objects. Safety barriers can also be used to create designated routes and isolate different types of traffic, such as sidewalks and vehicle routes.
2) Components of a security barrier
While the barriers may vary between manufacturers, the basic components are:
end post
center column
railway
3) Where are safety barriers used?
Safety barriers are widely used in various industries, sectors, and workplaces. They are primarily used in busy industrial facilities where on-site vehicles are common, such as:
factory
storehouse
delivery center
Airport
parking lot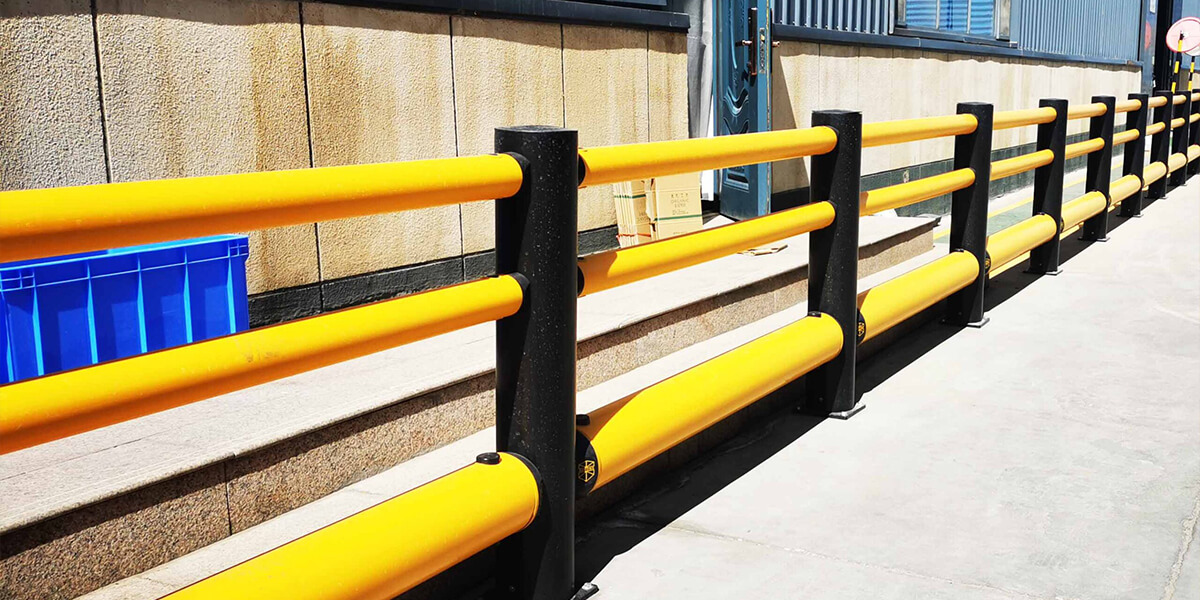 2. What is the Safety Barrier Used for?
Generally, safety barriers are used to:
protect
isolation
define route
pedestrian support
1) Protect
The most common use of security barriers is to provide protection. This can protect any number of things, such as people, machines, vulnerable structural spaces in buildings or facilities, inventory, and goods. Security barriers prevent the entry of vehicles and smaller manually operated material handling equipment such as pallet trucks.
2) Isolation
Another important use of security barriers is isolation. Separation refers to the separation of one object or person from another. Safety barriers can be used to isolate:
person in moving vehicle
Labor and machinery from hazardous or hazardous areas
a workspace or another workstation
opposite lane
3) Define Route
As with isolation, safety barriers can be used to identify and mark specific routes and paths. This can include vehicular routes throughout the facility, safe walkways for employees and visitors, and more specific routes such as one-way systems in busy venues.
4) Pedestrian Support
In addition to creating sidewalks, safety barriers provide the necessary support for foot traffic. Most pedestrian barriers include a handrail to provide additional support and make it easier for people to move through the facility.
With the world's first advanced polymer safety barrier, Aotons is the market leader when it comes to traffic management, pedestrian isolation, or protection. Making workplaces safer is what we know best.
3. What are the Types of Safety Barriers?
This section describes the various types of security barriers and the different levels of protection they provide. Additionally, you will learn about the various barriers and the types of materials used in their manufacture.  The following is a list of various types of security barriers:
1) Traffic Barrier
Traffic barriers are used to separate traffic lanes and create clear vehicle routes. There are many different types of traffic barriers – from portable temporary barriers to fixed barriers. These can be found inside the facility and on the road.
2) Crash Barrier
When people refer to "crash barriers," it's usually about the guardrails and types of guardrails that line highways and busy roads. Usually made of stainless steel or another type of metal, these guardrails cover long distances and provide serious protection for vagrant vehicles.
3) Pedestrian Barrier
Pedestrian barriers are the types of barriers that typically define pedestrian routes and sidewalks through areas of busy facilities and increased vehicular activity. Not only do they protect those walking beside them, but they also provide additional support for pedestrians, often in the form of handrails.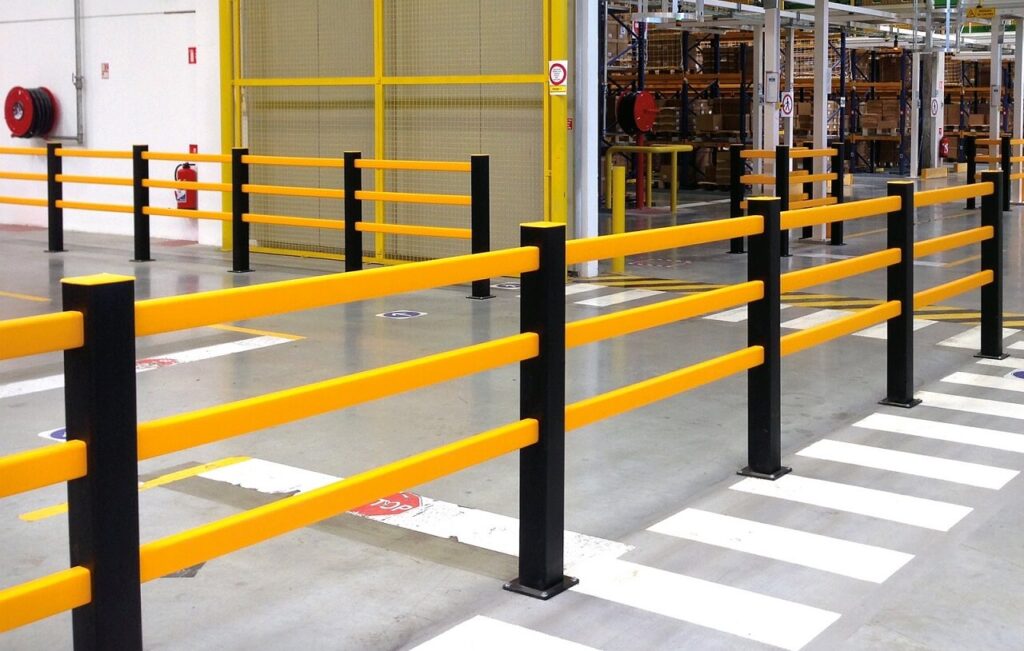 4) Fence
There is no difference between a guardrail and a security barrier. Safety barriers are just an umbrella term that includes guardrails along roads.
4. What is Security Marriers Made of?
Different materials are often used to make security barriers. Concrete, steel, and plastic are the most common types.
5. How Do Concrete, Steel, and Plastic Safety Barriers Differ?
Although concrete, steel, and plastic security barriers serve the same basic purpose, the level and type of protection they provide can vary with each material.
1) Concrete Safety Barrier
In some cases, concrete barriers can be cast in place or installed at specific locations. Cement is used to attach them to the floor. In order to provide greater impact protection, concrete barriers are sometimes reinforced with steel or metal.
2) Steel Fence
Safety barriers made of galvanized steel are very common – especially on roadsides. These usually take the form of long barriers that separate traffic and prevent vehicles from going in different directions.
3) Plastic and Polymer Barriers
Plastic security barriers are often referred to as "polymer security barriers," which refer to the type of material from which they are made. Some polymer barriers are used as temporary protection, while others are stronger and designed for long-term industrial protection. These polymer safety barriers are designed to withstand impacts and then return to their original shape so they can be used again.
Polymer barriers from Aotons offer long-term protection and don't require maintenance if you need a strong, reliable, and cost-effective security barrier. Learn more about our security solutions by contacting our team.
6. What can Security Barriers Protect and Defend against?
Now that you know more about security barriers and the types available, it's useful to understand what they prevent and what can cause barriers to fail.
1) What can a security barrier prevent?
Safety barriers in industrial workplaces are designed to withstand impacts from:
car
truck
forklift
pallet jack
other on-site vehicles
Safety barriers are designed to protect vulnerable objects from the unexpected impact of moving vehicles, but the amount of force a safety barrier can withstand varies by barrier type.
2) How do you calculate the strength of a security barrier?
Most manufacturers will provide an impact rating for their safety barriers. The rating is a number in joules. When testing safety barriers, this number is derived by multiplying the vehicle's speed by its weight, taking into account the angle at which it hits the barrier. These ratings provide guidance on how much force a security barrier can withstand.
3) What can cause a safety barrier to fail?
If the object changes speed or weight, this will affect how successful the safety barrier is at deflecting the impact. If the safety barrier weighs no more than 4.4 tons and does not travel faster than 5 mph, it may be able to withstand the force of a forklift. However, if the driver increases the speed of the vehicle, or if there is additional weight on the vehicle, it may cause the safety barrier to fail.
It is therefore important to observe strict regulations regarding vehicle speed and maximum weight on site. This will ensure that the security barrier can perform to its optimum specification.
For security barriers to provide effective protection, you must understand what they protect against. Each Aotons product has been rigorously tested for impact – our website even includes a joule tool for understanding the impact a product has on energy efficiency. You can count on our team for assistance.
7. What are the Key Safety Barrier Standards and Regulations?
When investing in a security system, it is important to understand what standards and regulations are in place to help you invest in an effective product from a vendor you can trust.  
1) Are there safety standards for safety fences?
PAS 13 is a code of practice for the installation and testing of security barriers. It was created by the British Standards Institution in partnership with the blue-chip company steering group and health and safety executives. Aotons is the technical author and sponsor of the paper.   
As well as standardizing guidelines for safety barrier testing, it is intended to help people configure safety barriers correctly in the field. As long as PAS 13-compliant products meet specific criteria, their impact ratings can be trusted. Your workers, machines, and infrastructure will be protected from unwanted impacts with Aotons safety barriers and bollards.
8. Summary
This article has provided you with an overview of the basic elements that make up a security barrier and the different types of industrial barriers available.
At Aotons, we provide you with a range of security barriers, whether you require warehouse protection, efficient traffic management, pedestrian isolation suppor,t or heavy duty protection of machinery and structures. Call +0532-86958235 to contact our sales team , please email info@aotons.com to find out what we can do for you.